Dean's Message
Faculty of Education


Message from the Dean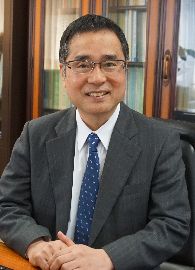 The Faculty of Education at Kagawa University consists of two primary programs. The first is the Teacher Training Program, where students study to become school teachers. The second is the Humanities and Environmental Sciences Program, which nurtures young minds into skillful individuals capable of supporting our life-long learning society.
Within the curriculums of these two programs, there are common characteristics that emphasize practical learning. In the Teacher Training Program, students are taught with a core curriculum that is based on practical education which builds throughout all four years of academic study. From the time that they enter the university, students deepen their understanding of the teaching profession, develop their leadership abilities, and gain personal experiences in and out of the classroom. In the Humanities and Environmental Sciences Program, internships and fieldwork are substantial. Through these interactions, students combine experience-based activities suitable for research topics with knowledge gained from exploring challenges and solutions within society.
Throughout their four years at Kagawa University, students will pursue and accomplish many goals, and in doing so will improve their own skills and character. Furthermore, the activities within the academics groups of each department and program serve to enrich student life and support students' growth as individuals in society. Here, the enriched student culture of Kagawa University is passed down from the older students to the younger ones. Through the collaboration and hard work among students of all the academic groups, exhibitions sponsored by the Faculty of Education are brought to the community every year, such as the "Wakuwaku Concert", the "Kagawa Science Experience Festival", and the "Tomorrow Students Festival".
There are many institutions attached to the Faculty of Education at Kagawa University. Within the two cities of Takamatsu and Sakaide there are 6 public schools, as well as"Subaru", the Class-based Center for Children with Special Needs. Additionally, there is also the Center for Educational Research and Teacher Development, where students who want to become excellent teachers can find useful resources and various support services.
For those of you who want to become teachers, or those who have a desire to contribute to society, the Faculty of Education will utilize all of its power to support your growth throughout your four years of study here. I am looking forward to welcoming all of you who are overflowing with ambition to Kagawa University.
The Dean of the Faculty of Education,
Mouri Takeshi